For your business to succeed, your business needs to grow. One way to elevate your business is to modernize and streamline your IT solutions.
Most decision makers jump at the chance to increase productivity and collaboration, but more often than not you are too busy with the actual business of your business to research and implement impactful changes to your network and infrastructure. That's when IT consulting becomes a powerful asset to your team.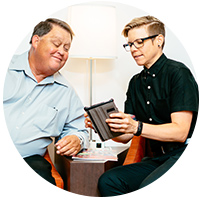 Whether your business currently utilizes a managed service provider (MSP) or you are working your way up to a full-scale IT solution, you will often find yourself in need of professional services. IT consulting becomes handy when you are dealing with the type of projects that don't require monthly maintenance, but still require professional assistance. 
Here are four IT consulting projects that will make a noticeable difference in your business: 
1. 

Workflow Automation

In order to actually finish out the workday, employees often find a workflow process and stick with it as long as they can. While consistency is better than having every day be a crap-shoot, consistency doesn't always mean efficiency or productivity. 

What we've noticed is that sometimes people in business become so busy; so stuck in a routine, that they can't see the forest for the trees. 

A workflow automation consultation can help to pinpoint the weaknesses in your day-to-day operations. Something as simple as eliminating a few steps from a daily routine can translate to huge savings in time and money when you look at the bird's-eye view. Projects are 250% more successful when proven project management practices are used.

A professional IT consultant will then go a step further and help you find the tools necessary to streamline your workflow, and offer metrics to study your progress. Real-time data can reduce an organization's operational expenses by as much as 23%.
 2. 

Hardware Refreshes

Technology keeps getting smarter — and it keeps getting smarter faster — every day. In order to keep up with the competition in your market, you need to be able to provide a higher level of productivity and efficiency. 

Take for instance the medical field. In many modern offices, doctors are utilizing video conferencing to perform remote consultations. This requires hardware processing that can keep up with the high bandwidth required for HD video conferencing. 

An IT consultant can work with you to discern which hardware you need to support certain goals now and into the future. Hardware refresh consulting helps integrate new hardware with your ideal IT network. 
Many IT consultants will also procure the hardware and implement it at your business, providing a seamless transition from the old to the new system. 
3. Cabling
You know what the worst part of getting a new TV is? Connecting the wires to all of your new devices. New computer? Connecting the cables to new devices. How about a brand new IT network connecting multiple servers to every single one of your employees across multiple rooms/floors/etc? You guessed it…connecting the wires. Or, in this case, mostly cables. 
Cabling consultation will not only suggest ways to optimize your cable placement, but will also optimize your cable type, how much to order, and color coding for the best possible network design and strength.
4. Wireless Infrastructure
As your business grows, you'll notice that your Wi-Fi speeds are degrading as more and more devices enter the day-to-day mix. Creating a collaborative environment in today's mobile business place often depends on real-time interactions. The only way to offer this is with a steadfast and strong Wi-Fi network that can securely support both your employees and your guests.  

An IT consultant will be able to assess your office and use signal heat mapping to identify the best placement for your wireless access points (AP),  and tell you if a different model device would be better. Soon, you'll have an office that stays connected, and employees that spend more time working and less time searching for a signal. 
How can we help you?
RWA offers a number of IT consulting services on top of our managed services offerings. Most of the time, the best IT solutions will combine a monthly plan that covers the day-to-day management of your network, with the more sporadic, yet impactful, elements like hardware refreshes and other focused projects. 
Please give us a call or send us a message to find out more about how our managed services may fit your needs. 
https://www.rwacentral.com/wp-content/uploads/2018/01/rwa-server-hardware-support.jpg
266
702
The Editor
/wp-content/uploads/2017/08/logo-rwa.png
The Editor
2018-01-30 16:45:46
2018-10-12 17:54:26
4 IT Consulting Projects That Will Make Your Business Better